June 6-12, 2022

Sting
Olympia Hall, Paris, France, April 13, 2017
After releasing his "57th and 9th" album in November of 2016, Sting set out on a huge world tour, playing 115 concerts, across 4 continents!
On this broadcast of Live in Concert, we'll be listening to a legendary performance from this tour, captured live on April 13, 2017, at the historic Olympia Hall, in Paris, France. It's a tiny venue for an artist like Sting- capacity is just 2,800 people for concerts. Olympia Hall was designed by the same architectural team as the world famous Moulin Rouge in Paris.
The setlist for this concert is chock full of classics- from both The Police, and Sting's solo work.
Don't miss rock legend Sting! He's headlining Live in Concert!


This week's setlist: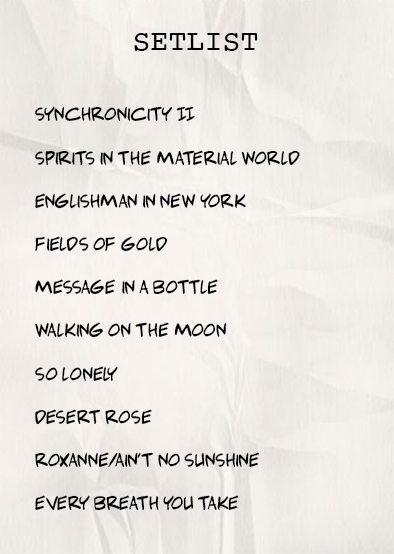 We'll also hear classic live sets by:


Huey Lewis & The News
Recorded live in Hartford, CT, on 8/25/1984

Jefferson Starship
Recorded live in Hollywood, CA, on 1/21/1995
Kenny Loggins
Recorded live in Austin, TX, on 12/2/1982