July 18-24, 2022

U2
The Apollo Theatre, New York, NY, June 11, 2018
All is seemingly quiet with U2 these days. They haven't taken the stage since finishing up their "Joshua Tree 2019" tour. But quiet doesn't necessarily mean dormant. The Edge recently revealed the band is working on a few new things, and speculation points to a new album. Stay tuned!
On this broadcast of Live in Concert, we're going back to U2's "Experience + Innocence" tour. Their tour was jam packed, and off days became sacred- it was the only time for both the band and the crew to rest.
June 11, 2018 was one of those scheduled off days. But it didn't last long. Instead of enjoying a quiet night in a luxury hotel in New York City, the band decided to make history with a legendary performance at the world famous Apollo Theatre in the Harlem neighborhood of New York.
Instead of playing in front of 60,000 fans in a massive stadium, on a high tech stage full of the latest technology, U2 scaled everything down and played on a tiny old wooden stage in front of just 1,500 incredibly lucky fans! They went back to their roots, and their performance was stunning.
Don't miss this historic concert from rock legends U2- they're headlining Live in Concert!


This week's setlist: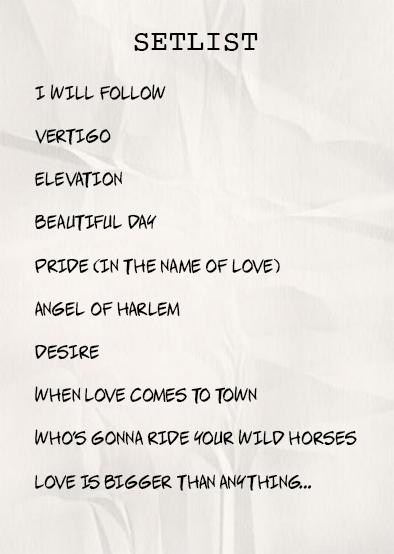 We'll also hear classic live sets by:


Pete Townshend (w/Deep End)
Recorded live in Cannes, France, on 1/29/1986

Collective Soul
Recorded live in Atlanta, GA, on 4/23/2005
Queen
Recorded live in Frankfurt, Germany, on 2/2/1979