February 27 - March 5, 2023

Rod Stewart
Royal Albert Hall, London, England, October 13, 2004
It's an incredible fact- Rod Stewart has been performing live for over 60 years! And he's showing no signs of quitting anytine soon.
Stewart kicks off an Australian tour in just a couple weeks, on March 11th. Then, it's back to the U-S for yet another residency at the Colosseum at Caesar's Palace in las Vegas! Get all the details HERE!
On this broadcast of Live in Concert, we'll listen to an incredible concert, captured live on October 13, 2004! It was one night only, at London's world-famous Royal Albert Hall. Rod Stewart was taking the stage, and joining him for part of the performance was his longtime Faces bandmate, Ronnie Wood!
Don't miss this extraordinary performance by one of rock's living legends, Rod Stewart! He's headlining Live in Concert.


This week's setlist: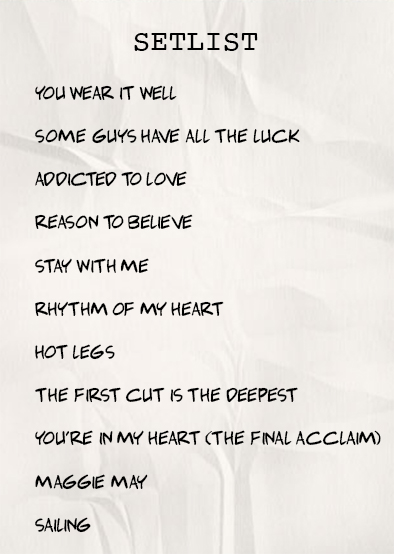 We'll also hear classic live sets by:


America
Recorded live in Georgetown, Grand Cayman Island, on 4/5/2002

Al Stewart
Recorded live in Chicago, IL, on 10/27/1978
Toto
Recorded live in Montreux, Switzerland, on 7/5/1991